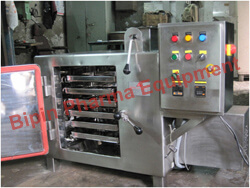 Our tray dryers are designed by our professional designers and skilled personnel craft every machine with almost care and precision to deliver various models which are high performance and also low on maintenance.
Models: 12 trays, 24 trays, 48 trays, and 96 trays
Key Features:
External walls are made out of 2mm thick SS 304/316 quality. Internal walls are built of 1.6mm thick SS 304/316 grade sheets which are lined by 50/75/100 mm thick glass wool insulation and cladded with SS polished sheets.
The front door is equipped with an which is adjustable air outlet and a fresh air inlet lined by 15 micron pp cloth filters.
The explosion proof door is securely locked with the help of ibolt system.
The door lips are lined by silicone (Hollow) rubber gasket to make sure there are no leakages.
Electrical Heating
The heaters that are fit on the sides on the fryer facilitate the uniform heating of the "u" tubes SS 304 each of 1Kw which attain a maximum temperature of 100&degC inside the dryer.
A Digital Temperature Indicator offers full control over full range of heating load.
The terminals of the heaters are placed outside the dryer to facilitate safer operations for solvent based products.
MODELS
TD-12
TD-24
TD-48
TD-96
Loading capacity
12 Trays
24 Trays
48 Trays
96 Trays
External Dimension in mm
W D H
1370 X 530 X 940
W D H
1370 X 940 X 940
W D H
1980 X 1020 X 1880
W D H
3320 X 1900 X 1880
Internal Dimension In mm
840 X 430 X 840
840 X 860 X 840
1020 X 930 X 830
1960 X 930 X 1830
No. of Doors
One
One
One
Two
No. of Fan
One
One
One
Two
No. of motors/H.P.3 PHASE 415 VOLTS.
1/0.5 H.P.3 phase 415 volts.
1/0.5 H.P.3 phase 415 volts
1/1 H.P.3 phase 415 volts
2/1 H.P.3 phase 415 volts
Electrical Heating Load for100°C/200°C/300°C
3kw/6kw/9kw
6kw/9kw/12kw
9kw/15kw/18kw
15kw/21kw/27kw
Steam Heater No. of coils.
2
2
2
2
Steam Pressure
3.3 kg/cm2
3.3 kg/cm2
3.3 kg/cm2
3.3 kg/cm2
Steam consumption
25 LBS/hr
45 LBS/hr
60 LBS/hr
80 LBS/hr
Insulation in mm100°C/200°C/300°C
50/75/75
50/75/75
50/75/75
50/75/75
No of Trolleys
Rack System
Rack System
One
Two
Tray Size
812 X 406 X 32
812 X 406 X 32
812 X 406 X 32
812 X 406 X 32
Trolley Dimension
Fixed Racks
Fixed Racks
840 X 960 X 1780
840 X 960 X 1780