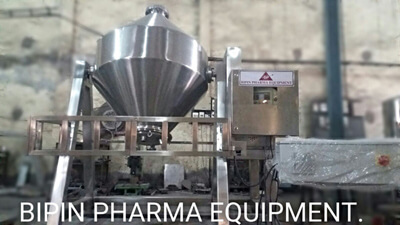 Blender - Double Cone Blender
Double Cone Blender is an ideal machine for mixing dry powder and granules homogenously. Our Double Cone Blender is fabricated from the best quality raw materials which are procured from reputed and certified vendors, hence our product has earned a reputation for its quality, durability and flawlessness in markets all across the globe.
Key Features:
All contact parts are cast in stainless steel grades SS 304 or SS 316
Available capacity is 20 Ltrs - 3000 Ltrs and the effective volume for optimum homogeneity is between 35-70% of gross volume. However the effective volume can be upgraded to 80% based on valid study of the product.
The Slant shape of the blender means that there are conical shapes at both ends which enables uniform smixing and easy discharge along with eliminating dead sports which occasionally occur in conventional double cone mixers.
Statically balanced cone doesn't put any additional load on the gear box and motor, although 'Slant' designed off-centre double cone blender is also available.
The powder can be loaded into the cone through a wider opening butterfly or slide valve.
For better mixing, cone paddle-type baffles can be provided on the shaft inside the cone, depending upon the product.
Flame proof motor can be supplied as per clients requirements.
| Gross Cap. In Ltrs | Net Working Cap. | Rpm | Hp |
| --- | --- | --- | --- |
| 30 | 20 | 8-12 | 2 |
| 150 | 100 | 8-12 | 3 |
| 300 | 200 | 8-12 | 5 |
| 500 | 350 | 8-12 | 7.5 |
| 1000 | 750 | 6-10 | 10 |
| 1500 | 1000 | 6-10 | 15 |
| 2000 | 1400 | 6-10 | 15 |
| 2500 | 1750 | 6-10 | 20 |