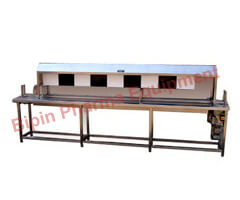 Salient Features:
Construction AISI S.S. 304 Quality.
Variable speed A/c Drive / Three step pulley for different speed.
Special self-aligning bearings ensure smooth and trouble free operation.
Suitable for different type of container.
S.S. Elegantly Matt Finished Body.
Reduction gears ensure jerk free and noiseless operation.
Matt Finished body.
Operation
The conveyor belt brings the bottle from the Washing / capping machine conveyor. These bottles are automatically bifurcated on the two adjoining conveyor belts (If two seated) & further on the side tables for operators sitting on either side of the table. The operators in turn visually inspect the bottles on magnifying dome to check for any partials in the liquid filled, sealed & breakage of bottle, and if found any problem manually reject the container. After inspection the bottles are transferred for further operation.
Techincal Specification:
| Model | BPE-1 | BPE-2 | BPE-3 |
| --- | --- | --- | --- |
| Direction of Movement | Left to Right | Left to Right | Left to Right |
| OUTPUT PER MIN. | 60-80 (depending on operator skill) | 100-150 (depending on operator skill) | 150-200 (depending on operator skill) |
| Number of Operator | One (one side Seated) | Two (one sideside or Two side Seated) | Four (one sideside or Two side Seated) |
| Dome Diameter | 250 mm | 250 mm | 250 mm |
| Power Characteristics | 0.5 Hp. / 220 V / 50 Hz. | 1.0 Hp. / 220 V / 50 Hz. | 1.5 Hp. / 220 V / 50 Hz. |
| Height of Conveyor | 860 mm to 910 mm | 860 mm to 910 mm | 860 mm to 910 mm |
| Length of conveyor | 5 / 6 ft. (as per required.) | 6 / 8 ft. (as per required.) | 8 / 10 ft. (as per required.) |